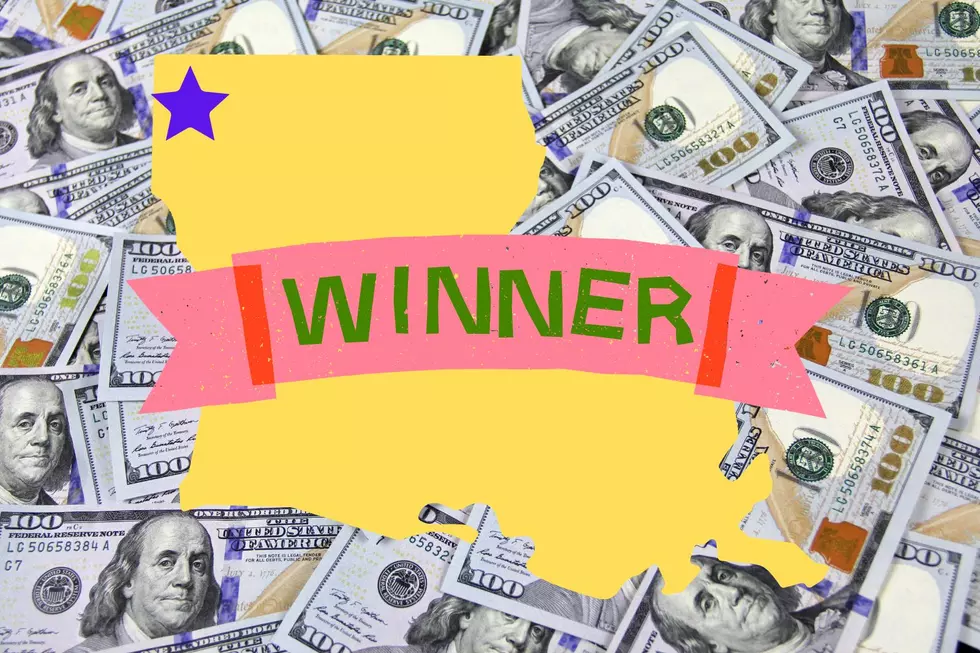 $50,000 Lottery Ticket Sold in Shreveport, LA Area Set to Expire
Canva
A lottery ticket worth $50,000, sold right here in the Shreveport-Bossier City, LA area, is set to expire soon.
Are you completely unaware that you're sitting on a winning $50,000 lottery ticket?
You might be if you bought a Powerball ticket over the last few months in beautiful Greenwood, LA. Louisiana Lottery officials report that a $50,000 winning Powerball ticket was sold on September 5, 2022, at the Love's Travel Stop #209 on Highway 80 West and the money is still sitting there in Baton Rouge, unclaimed.
The winning numbers for that night's drawing were 04-07-32-55-64 and the Powerball was 25. The winning ticket matched four of the five numbers and the Powerball for the $50,000 prize. If you find this ticket in your wallet, Louisiana Lottery officials say you should treat it like cash. In other words, don't let it out of your sight and definitely don't let anyone else sign the back. You'll want to do that for security purposes. All prizes bigger than $5,000 must be claimed at Louisiana Lottery headquarters in Baton Rouge or one of the five satellite offices located throughout the state. The one closest to us is in Shreveport in the Old River Marketplace Shopping Center on Shreveport-Barksdale Highway. For instructions on how to claim your prize, click here and just remember who helped you out.
Winners have 180 days after a drawing to claim their prize, but because that lands on March 5, 2023, which happens to be a Saturday, the deadline to claim this particular prize is Friday, March 4, 2023, at 5 pm. Good luck!
FYI, there's another unclaimed ticket from our area, but it has a lot of time left on it before it expires. It's worth $150,000 and is from the Powerball drawing held on December 24, 2022. The ticket was sold at Discount Tobacco Outlet #26 on North Market in Shreveport. The winning numbers for that drawing were 17-37-46-54-67 and the Powerball was 8. This ticket expires on June 22, 2023.
Historic Highland Home with Craftsman Charm is 100% Swoon Worthy
13 Most Disrespectful Things You Can Say In Louisiana
Check Out the Top 10 Cheapest Places to Live in Louisiana