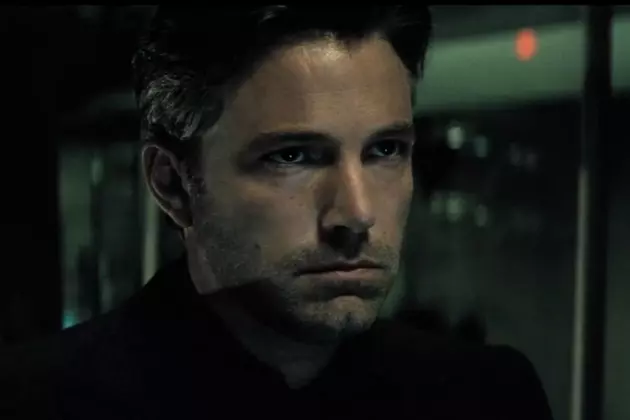 Turns Out Ben Affleck Won't Direct 'The Batman' After All, But Here's Who Might
Warner Bros.
A couple weeks later on January 2, Affleck appeared to have drifted farther from the project, telling The Guardian that "if it doesn't come together in a way I think is really great I'm not going to do it."
He then playfully chastised the press a week later on January 10, joking with Jimmy Kimmel that "I keep on getting, 'Where's the f—ing Batman?!' and I'm like, 'I'm working! Can you give me a second?!'"
Then, last week, this happened:
Which brings us to today, and the news that nope, Affleck will most decidedly not take the position of director on The Batman. Variety had the exclusive news that after what I can only imagine was an incredibly tense boardroom meeting, Affleck and Warner Bros. came to the joint decision that he would not be the man for the job. He will stay with the project in his capacity as star, however, continuing to lend his perma-stubbled grimace to the Dark Knight of Gotham. Affleck offered the following statement on the unexpected (and yet, also totally expected?) shake-up:
There are certain characters who hold a special place in the hearts of millions. Performing this role demands focus, passion and the very best performance I can give. It has become clear that I cannot do both jobs to the level they require. Together with the studio, I have decided to find a partner in a director who will collaborate with me on this massive film. I am still in this, and we are making it, but we are currently looking for a director. I remain extremely committed to this project, and look forward to bringing this to life for fans around the world.
The Variety item adds the note that "Sources say this decision was solely made based on what's best for the project and had nothing to do with the recent disappointment of Affleck's recent directing job Live by Night." And that may be true! But unnamed sources say a lot of things.
Warner Bros. has already begun scrambling to land a new director without disrupting their projected production schedule, and The Playlist named names that have landed on the studio shortlist. A handful of directors with recent high-profile productions on their CV are rumored to be in contention now: Fury Road's George Miller, neo-Planet of the Apes helmer Matt Reeves, current Oscar nominee Denis Villeneuve, Captain Fantastic director Matt Ross, and The Accountant's Gavin O'Connor have all landed in WB's sights.
The weeks to come will hopefully bring a resolution to all this hubbub, but that's when the real fun begins. If the production processes behind Batman v Superman and Suicide Squad really were as troubled as has been rumored, then a directorial shake-up before pre-production is an omen of another calamitous blockbuster. Get your popcorn.