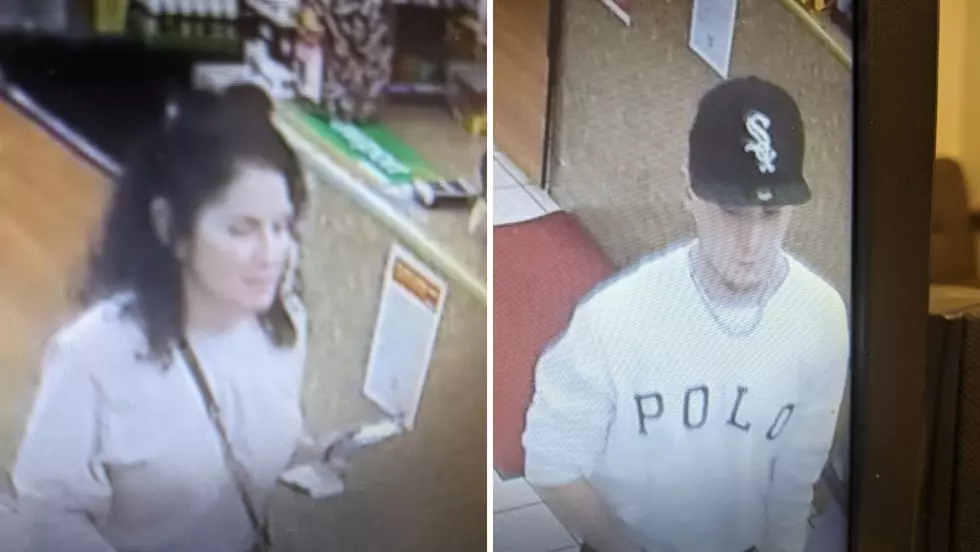 Bossier Police Seek Two Suspects in Car Theft and Fraud
Bossier Crime Stoppers/Canva
On 12/15/2022 a report was made in reference to theft of a motor vehicle and theft of bank and credit cards. The victim told police that all of her cards were in the vehicle when it was stolen. It was reported that the victim's card was used at a business on North Market street. Video was obtained, and stills of the suspects were released to the public to help find them. The video showed a white male and female were together in the store attempting to use the victim's card.
Anyone with information who wants to remain anonymous and be eligible for a cash reward is asked to call Bossier Crime Stoppers at 318-424-4100, or log onto www.p3tips.com to submit your tip via the web. For a secure and password-protected mobile app for your smart device, go to the App Store and download the free "P3tips" mobile app. No caller ID, no recorded lines, no tracking cookies, no saved IP address. ANONYMITY IS GUARANTEED!
When using the free downloadable P3 Tips mobile app OR the www.p3tips.com website, both feature very unique integrated Two-Way Dialog capabilities which allow the tipster to come back and provide additional information to their tip at any time. It also provides a secure means for the coordinator to ask the tipster questions pertaining to a provided tip (this is important for the tipster to know because some tips leave detectives requesting further information from the coordinator that only the tipster could provide).
Another reason to use the P3 mobile app or www.p3tips.com website is so that reward information can be given back to the tipster upon request through the same secure and encrypted interface.
Top 10 City of Shreveport Surplus Auction Items
The following items are but a few items available in the latest City of Shreveport Surplus Auction. The auction includes multiple vehicles ranging from automobiles, old ambulances, pickups and old police cars, to office furniture and supplies, orange road markers, fishing equipment, and golf clubs.
Top Dining Destinations in Shreveport Bossier to Take Visitors
Shreveport has many great restaurants. We picked out some of our favorites for you to take the family and friends if they are visiting from out of town..
Every New Orleans Saints Starting QB Since 2000
This list counts only regular season starts for quarterbacks of the New Orleans Saints since the year 2000. Though in that time, there have only been two quarterbacks to start playoff games for the Saints. Aaron Brooks and Drew Brees.