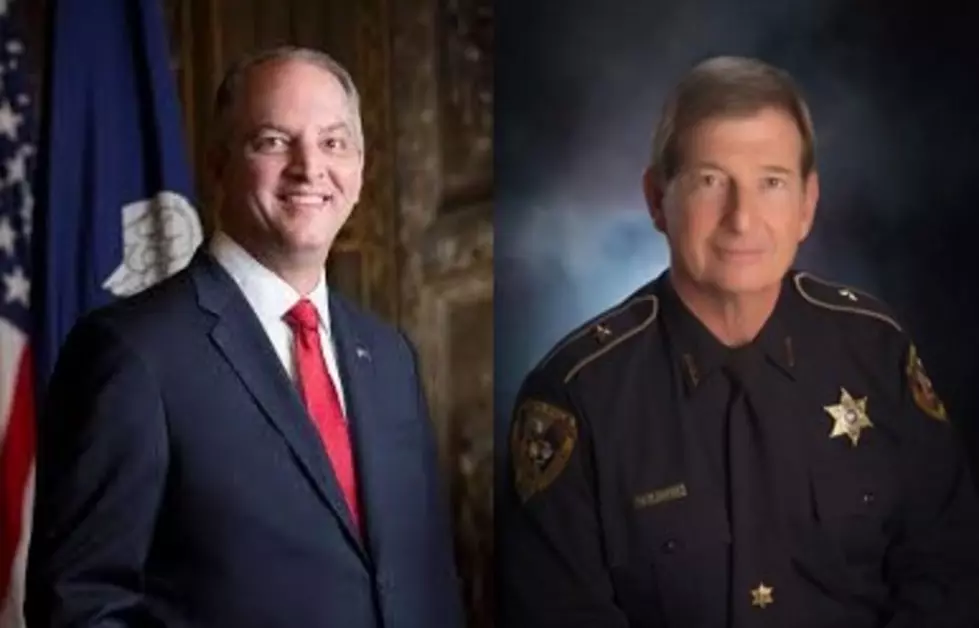 Feud Between Governor and Sheriff May Have Hit a New Low
photos via Governor's Office and Caddo Parish Sheriff's Office
A feud between Governor John Bel Edwards and Caddo Sheriff Steve Prator over criminal justice reforms may have just gotten next level ugly. According to an article in the Advocate, it would seem the feud now is affecting state business and involves wives.
Recently, Edwards rejected the appointment of Prator's wife Carolyn to the Red River Water Way Commission. The 11-member commission decides, among other things, how to spend flood control money in the seven North Louisiana Parishes. Each of the seven parishes has a representative, along with four at-large members. The Governor rejected Carolyn's appointment to the Board, instead opting to move an at large member into the open seat, which was vacated due to the death of a member.
Carolyn Prator believes the rejection is directly related to the governor and her husband's public and often heated disagreements over the Criminal Justice Reinvestment Act .
"Steve has been so vocal that he has been summoned to meet with the governor, who, according to Steve, was extremely angry to have been criticized about the initiative and demanded an apology. Steve remains a critic and the governor remains angry, " Carolyn told the Advocate. Sheriff Steve agrees with his wife saying that its no doubt in his mind that this is retribution.
However, the Governor's office denies that this is anything other than Edwards following rules and regulations. The Advocate reached out to the Governor's Office and his Communications Director Shauna Sanford said that Prator's recommendation letters for the job were not sent to the Governor within the required 30 day window.
However, KEEL News has been told by multiple sources that the Governor is not afraid to wield his power and has been known to seek revenge and retribution when opportunities appear.
In addition, after publishing this article, Sheriff Steve sent us a text message rebutting the Governor's claims that he didn't receive the recommendation letters within the required windows. Below is a text we received from Mr. Prator:
Waterway Comm notified the three nominating bodies of vacancy. 10 days later Carolyn's nominations sent to gov office. That is within 30 days. She has letters. Law says gov shall appoint as quickly as possible when he receives nominations. Took him over 4 months to reject Carolyn.
Either way, the rejection could have a huge impact on Caddo Parish. The Governor's decision will cost Caddo a vote on the commission even though it funds 40 percent of the budget.