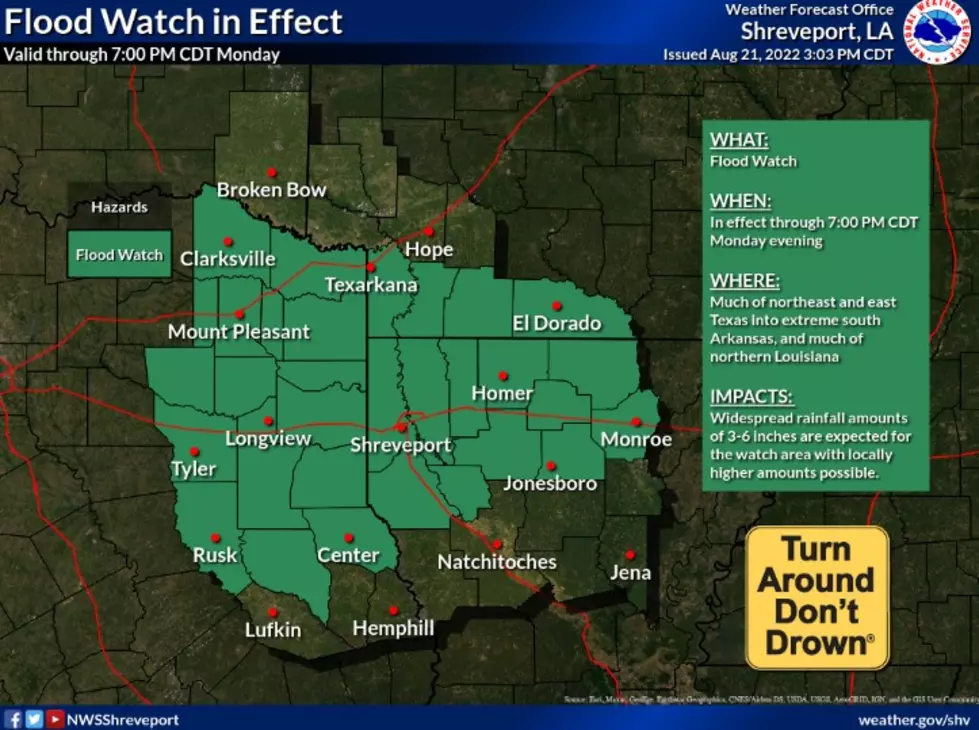 Flood Watch Issued For Shreveport With Possible Heavy Rain
National Weather Service Shreveport
As the old saying goes, "When it rains, it pours." And Shreveport and much of the Arklatex will likely be living proof of that over the next twenty four hours.
The National Weather Service in Shreveport has issued a Flood Watch for a large portion north Louisiana, extreme south Arkansas and east and northeast Texas through 7:00 pm tonight. According to the forecasters, periods of heavy rainfall are possible during this time with rainfall totals as much as 3 to 6 inches with isolated higher amounts possible in the Flood Watch area.
Those same forecasters warn that extension or expansion of the Flood Watch could become necessary with future forecasts and as this volatile system continues to move into our area.
The National Weather Service doesn't end our flood chances with the system impacting us today as they expect additional heavy rains to pelt the area for the next few days.
At 4:39 am, the National Weather Service radar indicated a massive system slowly moving to the east and will likely affect driving conditions for motorists headed to work this morning.
To keep an eye on the radar yourself and monitor this system as it moves into the immediate area, just go HERE
Answers To Louisiana's Most Fascinating Weather Questions
In Louisiana we experience nearly every type of weather condition known to man, and because of that there are plenty of questions as to how/why these things happen. Here's what we've found.
RANKED: Here Are the 63 Smartest Dog Breeds
Does your loyal pup's breed make the list? Read on to see if you'll be bragging to the neighbors about your dog's intellectual prowess the next time you take your fur baby out for a walk. Don't worry: Even if your dog's breed doesn't land on the list, that doesn't mean he's not a good boy--some traits simply can't be measured.