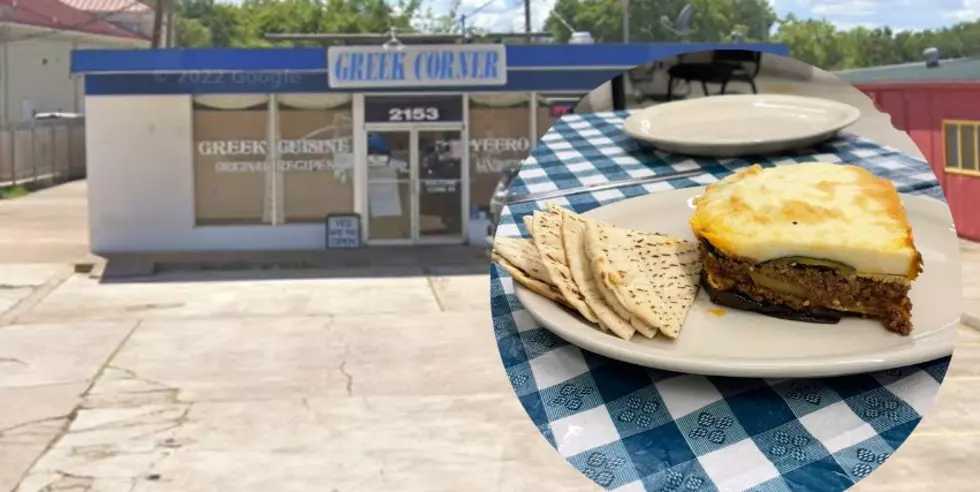 I Had the Best Dish at a Hidden Gem Greek Restaurant in Bossier
Via Google Maps, Krystal Montez
There is a Restaurant in Bossier on Airline That Has a Loyal Fan Base.
The Greek Corner is tucked away between Monjunis and Trejos on Airline Drive in Bossier. If you blink you'll miss it. You better put your blinker on before you turn into the little parking lot otherwise you'll lose concentration and keep driving past. This Greek spot has been around for years and it's almost like a secret spot on Airline in Bsosier. It's hidden in plain sight.
My Gym Buddies Have a New Obsession Causing Us to Cut Our Workout Short.
"If we don't take a lap now we won't make it to the Greek Corner before they shut down the kitchen." My workout buddy Lori has our entire crew rushing down Airline Drive because she's craving Greek food like crazy.
When We Sat Down We Saw a Couple Enjoying a Dish That I had Never Seen Before.
I had to ask them what on earth was that goodness on the plate. "It's the Moussaka Plate order it they don't always have it available and it sells out fast." I love Greek food but I had never heard of this dish. My buddy agreed to split it with me and we both were in awe.
This is a Greek Version of Lasagna (Don't Hate Me For Calling it That).
It's almost like what a Sheperd's Pie wishes it could be. Moussaka is a traditional Greek eggplant casserole. It is layers of ground beef, or ground lamb, eggplant, and potatoes, it's topped with a delicious creamy béchamel sauce. There is a reason why this dish sells out fast at the Greek Corner. Go try it, get there early before the dish sells out for the night.
Delicious Fall Menu Items You Have to Try in Shreveport-Bossier
The best additions to menus this fall all over Shreveport-Bossier.
Diners, Drive-Ins and Dives Guy Needs to Try in Shreveport-Bossier
Here are the restaurants that Guy Fieri needs to visit in Shreveport-Bossier for his "Diners, Drive-Ins and Dives"
6 of the Best Food Options at the State Fair of Louisiana
Here are our top favorite foods at the State Fair of Louisiana