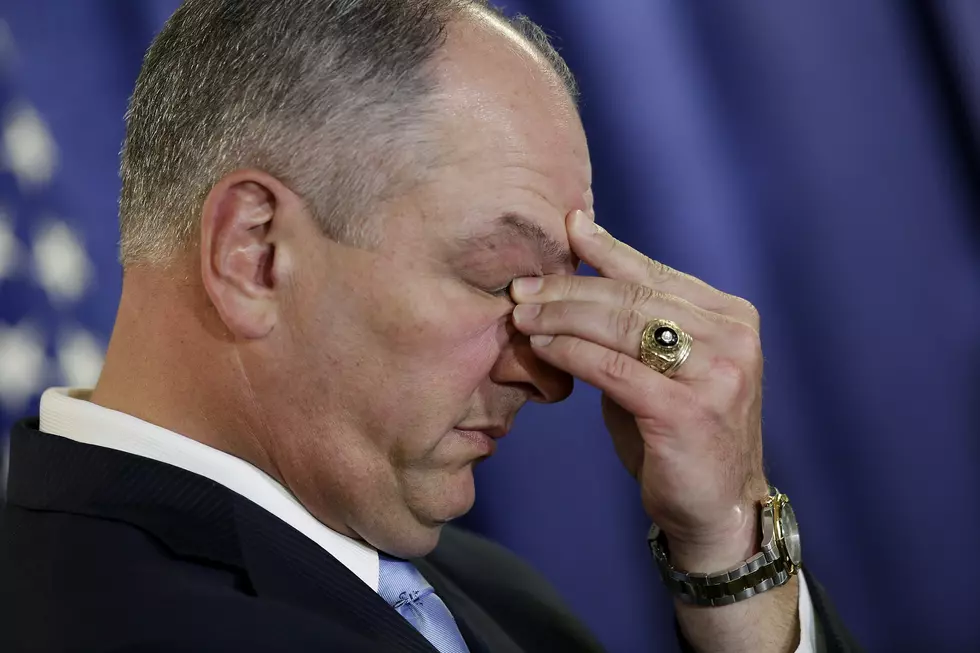 Is John Bel Edwards Louisiana's Worst Governor?
Photo by Joshua Lott/Getty Images
Enter your number to get our free mobile app
Louisiana Governor John Bel Edwards has had a rough two terms in office. Whether you like the man or not, you have to admit, circumstances have not been kind to him. He's had to deal with natural disaster after natural disaster after natural disaster. From coronavirus to hurricanes to flooding, he's had his hands full.
However, there's a lot people who have been critical of every decision John Bel has made, going so far as to call him the worst Governor this state has ever had. The only other person that immediately comes to mind when talking about bad Governors is the man the preceded John Bel, Bobby Jindal. So, that got me to thinking about who is worse - Bobby or John Bel?
Arguably, both tried their best to kill off the state. Jindal, blinded by his own presidential ambitions, made terrible financial decisions and was handing out tax breaks like Chiclets. Those decisions ultimately led to a nearly $2 Billion fisical shortfall for the state. Jindal came into office with a huge surplus and left the coffers empty. Don't forget, before his second term ran out, Jindal's statewide approval was under 20%.
As the Advocate wrote during last year's gubernatorial campaign, Jindal used a lot gimmicks to balance the budget which drained the nearly billion dollar surplus and left the state in the hole. Edwards submitted a rather gimmick free budget, pushed to raise some taxes and cut spending to close that billion dollar budget shortfall left by Jindal. Instead of using one-time money like the state did under Jindal, Edwards created a system without smoke and mirrors where the budget is actually balanced. So, yes, technically our budget has increased under Edwards, but he's also pulled out the gimmicks and stunts that kept Jindal's budgets low while also draining every penny the state had.
However, it's not all sunshine and rainbows under Edwards' leadership. Louisiana is one of only 4 states (the other 3 are North Dakota, Wyoming and Alaska) to lose jobs between 2016 and 2019. Now, a lot of the jobs lost had to do with cutbacks in the oil and gas industry which is also why the 3 other states lost jobs as well. However, the GDP growth under Edwards is low compared to both Jindal and the rest of the country. According to 24/7 Wall Street, this is blamed on having unqualified job candidates in the state. "Low educational attainment may hinder the development of high-growth sectors like information and professional business services in Louisiana and stymie overall GDP growth throughout the state. Just 23.8% of Louisiana adults have a bachelor's degree, the fourth smallest share of any state."
However, the State under Edwards, has found room for growth in both education and job opportunities with his focus on creating cyber security jobs. In fact, Louisiana is one of the states in the country to get educated in the field and Edwards has worked hard to make Shreveport-Bossier and a few other locations both educational and employment hubs in the state. While the results have yet to be seen, Edwards has been praised as a trendsetter in that area by other Governors and local leaders.
And, under Edwards' leadership, the State's economy has grown a bit. According to 24/7 Wall Street, under Bobby Jindal our state had the 47th economy in country. Under Edwards, our state has risen as high as 46th. Compared to Jindal, the unemployment numbers in the state have dropped under Edwards. However, once again, it's not all positive. The state's GDP has gone up 7%..which is behind the 13.7% national average under Edwards' leadership. Also, personal income has gone up 7% under Edwards...however, that is also behind the national growth of 23%. Poverty rates in the state have actually gone up in recent years. It's only up by a fraction of a percent, but any increase is this area is not a good one.
These are just a few comparisons that you can draw between Jindal and Edwards. And the general consensus among political experts is thusly: At the moment, Edwards is better than Jindal, but just slightly. A lot of Edwards legacy remains to be determined. He's performing better than his predecessor and adding more stability to the state's finances, however we're not setting the world on fire in any category under his leadership either. So, for a lot of people's money, Jindal is still the worst governor not only in Louisiana history but one of the worst in American history.
Read More: FBI 10 Most Wanted List