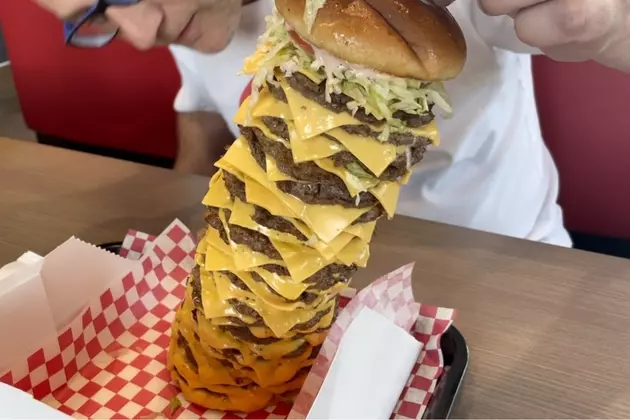 Is the 30 Stack Challenge at Patty Shack in Bossier Impossible?
Krystal Montez
There is a new challenge in town that has caught the attention of the Ark-La-Tex. If there is good food to be had I want in. If there is some kind of eating challenge I want to know all about it, it doesn't mean that I will participate but I want to watch it happen.
There is a ridiculous challenge has gone viral in the Ark-La-Tex that has us all proving that our eyes are much bigger than our stomachs.
It's called the 30 Stack Challenge and according to Patty Shack's Facebook page, no one has come out victorious, yet. So of course I had to coax a co-worker to attempt it.
I am convinced this challenge has been invented so no one out there can possibly break it. However, my co-worker was convinced he had a shot.
It's a whole 30 patties that comes out to 4 1/2 pounds of ground meat.
Excuse me, absolutely not. We showed up to see if Brandon actually had a shot at the 30 Stack Challenge.
I spoke to John and Victor who are both owners of Patty Shack and asked if anyone has come close to beating the challenge. They said one man was able to finish 20 and another guy saw that and said he could beat him. So as of now, only one man has been able to get 25 down. According to John the co-owner of Patty Shack the man who took the challenge relied on his wife to drive him home because he was so miserable after eating 25 patties.
How did our attempt go? Not good.
Brandon started off strong, he said the burger was really yummy and after 20 minutes I saw him start to fade. By the time he reached 10 patties, I knew it was a matter of time before he bowed out.
He maxed out at 13 patties before calling it quits.
I'm not calling him a quitter, but I'm sure not cheering him on moving forward in any eating competitions.
Do you want to take the 30 Stack Challenge?
All you have to do is call ahead and let them know you're on the way. It is a tad pricey, I mean it's 30 patties. So get ready to pay and pray at the counter.
Read More: Top Ten Shreveport-Bossier Restaurants We Miss Most
Top 7 Authentic Tacos in Shreveport-Bossier