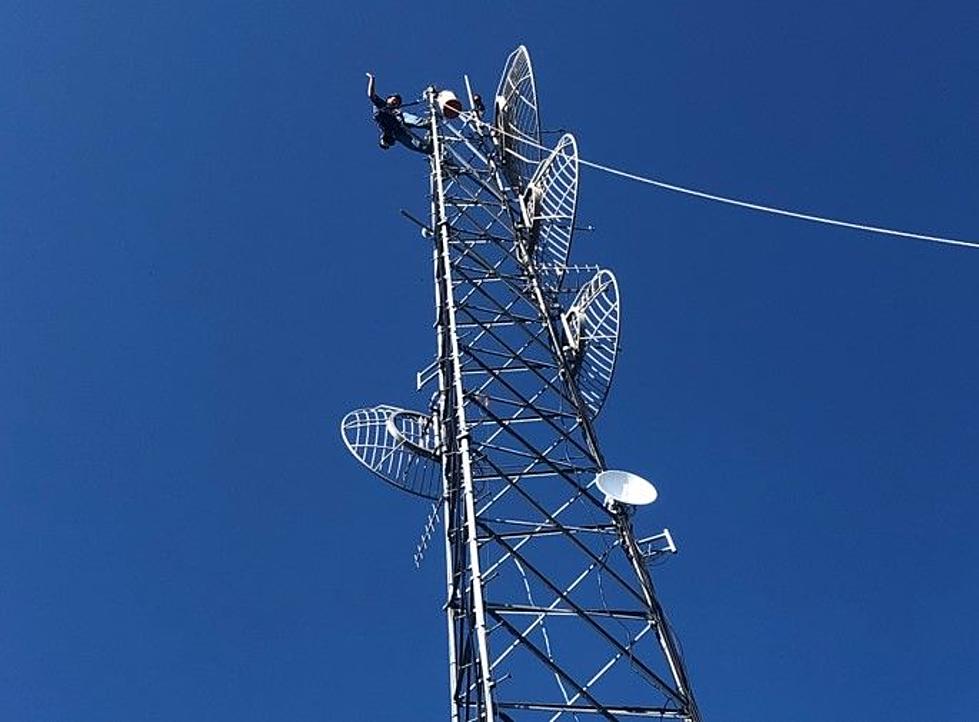 10 Jobs Most Louisiana People Say They Just Won't Do
Photo by Gary McCoy
I have to admit that when it comes to careers, most radio personalities truly have it made.
Very infrequently do we have to brave the weather elements. We work in a climate controlled environment and outside the occasional remote broadcast, we are far removed from the heat of summer or the wrath of a winter storm.
However, there are some who also chose radio as their vocation and they not only look the weather square in the eye, but they put their lives on the line while they're earning their living.
Those men and women are radio engineers and several months ago, we got to witness exactly why these people make the big bucks.
It was then, that I walked outside and witnessed Troy Roberts, the owner of Ascend Tower, pictured above, perched high on this tower and he was comfortable enough in his surroundings to pose for the camera and wave at me.
Not me. If I'm ever found at the top of a radio, television or cell phone tower, it's because I lost the gun fight. Just not going to do it.
In fact, I found I wasn't alone in that and discovered there are a lot of jobs, like climbing these towers, that people say they wouldn't do for any amount of money.
After a little research, I found the latest data from the Bureau of Labor Statistics, and discovered what they've deemed the Ten Most Dangerous Jobs in America.
Fishing and Hunting Workers
Aircraft pilots and flight engineers
Construction trades and helpers
Refuse and recyclable material collectors
Driver/sales workers and truck drivers
Structural iron and steel workers
Farmers, ranchers and other agricultural managers
Grounds maintenance workers
Guess I just don't understand how military personnel and first responders didn't make the list.  At any rate, it's not just danger that some people will completely steer away from.
There are lots of variables that we just won't tolerate when it comes to our employment and after considering most of those variables, I've discovered these to be The Top 10 Jobs Most People Wouldn't Do for Any Amount of Money
The 10 Jobs Most People Wouldn't Do For Any Amount of Money
10 Most Dangerous Cities In Louisiana
According to statistics from the FBI, these are the Top 10 Most Dangerous Cities in all of Louisiana in regards to violent crime and property crime.