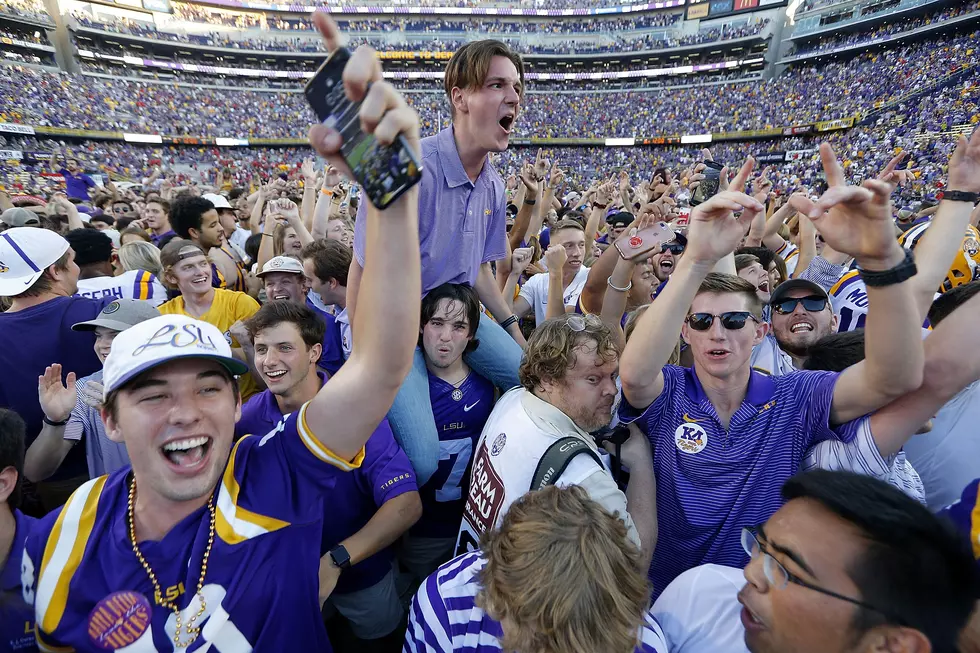 Nine LSU Fraternity Members Arrested for Hazing
Photo by Jonathan Bachman/Getty Images
Sad news to see out of Baton Rouge today.
Over the last few years, colleges nationwide, not just on the LSU campus, have been cracking down on fraternity hazing. Nine members of the Delta Kappa Epsilon fraternity were arrested for hazing-related activities that allegedly took place in the fall of 2018.
We're not sure exactly what the "hazing-related activities" were in this case, but if/when that information comes out, we will share it with you.
Out of the nine people arrested, four of them face a felony charge for battery.
Below are the nine fraternity members who have been arrested.
Charles Eugene Brakenridge, 23, Ferriday, La. – 1 count of Principal to Criminal Hazing (misdemeanor) and 1 count of criminal hazing – representative duty to report (misdemeanor)
Blake Andrew Chalin, 20, Gretna, La. – 3 counts of criminal hazing (misdemeanor)
Cade Rain Duckworth, 23, Lafayette, La. – 3 counts of criminal hazing (misdemeanor); 1 count of attempted second degree battery (felony); 1 count of second degree battery (felony); and 1 count of false imprisonment (felony)
Gaston Thomas Eymard, 23, Kenner, La. – 1 count of criminal hazing (misdemeanor) and 1 count of second degree battery (felony)
Shakti P. Gilotra, 22 – 1 count of criminal hazing (misdemeanor) and 1 count of second degree battery (felony)
Joseph Dylan Harkrider, 19, Zachary, La. – 1 count of criminal hazing (misdemeanor)
Malcolm Richard McNiece, 23, Baton Rouge, La. – 4 counts of criminal hazing (misdemeanor) and 1 count of second degree battery (felony)
Alexander Joseph Rozas, 23, Jennings, La. – 1 county of principal to criminal hazing (misdemeanor) and 1 count of criminal hazing – representative duty to report (misdemeanor)
Garrett Joseph Sanders, 21, Minden, La. – 1 count principal to criminal hazing (misdemeanor) and 1 count of criminal hazing – representative duty to report (misdemeanor)