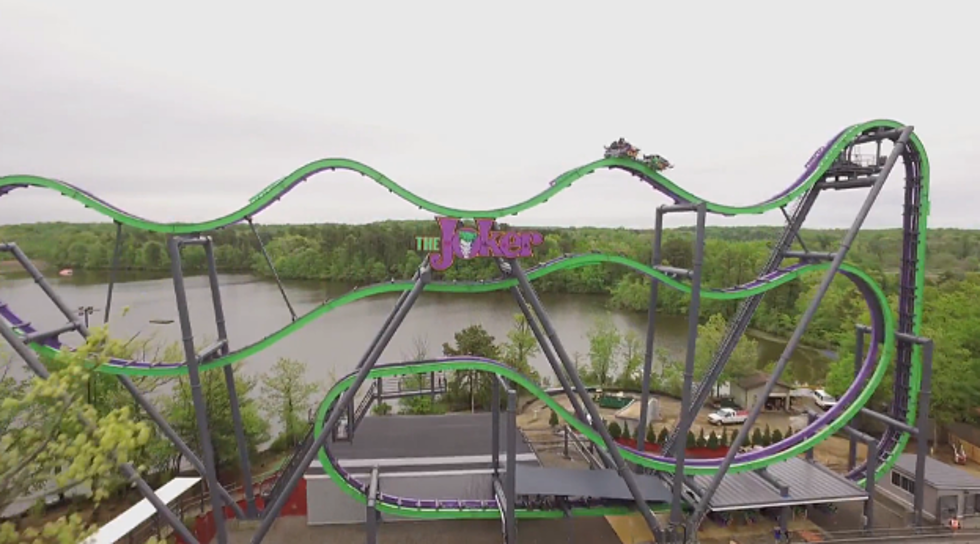 Six Flags Over Texas + Fiesta Texas To Open New Rides
CoasterForce via YouTube
One of my favorite things to do in the entire world is to ride roller coasters! Thankfully I live close enough to Six Flags Over Texas that I can get my fill of thrills just about any time I want and there's a new one opening this spring too!
Six Flags Over Texas will begin the 2017 operating season on Saturday, February 25th at 10:30 a.m.! The park will be open for weekend operation and then they'll extend their hours as spring break approaches! New this year at Six Flags Over Texas will be The Joker!  The Joker is a 12 story ride is located in the Gotham City themed area of the park and is prominently placed as you approach the park on Six Flags Dr. from I-30 or S.H. 360! You can't miss it because it has a pretty flashy paint job - green and purple!
The free flying coaster is scheduled to open this spring and will have thrill seekers flipping head over heels at least six times and feeling a little disoriented because they're hanging out on the side of the track! No track above you or below you, just you hanging out waiting to see what The Joker has in store for you!  Standing 12 stories tall, the free fly coaster offers every rider a different riding experience each time!
This past Monday (January 30th) Six Flags Over Texas celebrated with the installation of the final piece of track on the ride. All that's left now, is some electronics, putting the vehicles on the track and some landscaping and it's ready to go! I know there's way more to it than that, but I can't wait until I get on this! Here's a look at the ride from another Six Flags park from CBS11 in Dallas.
Six Flags Fiesta Texas in San Antonio will also begin it's 2017 operating season on Saturday, February 25th at 10:30 a.m. Six Flags Fiesta Texas is marking the new year by opening a new water coaster this summer called Thunder Rapids in the water park portion of the park. Billed as America's first rocket blast water coaster, you get propelled uphill just as fast as you come downhill five times throughout the ride. The park released the following animation for the new ride.