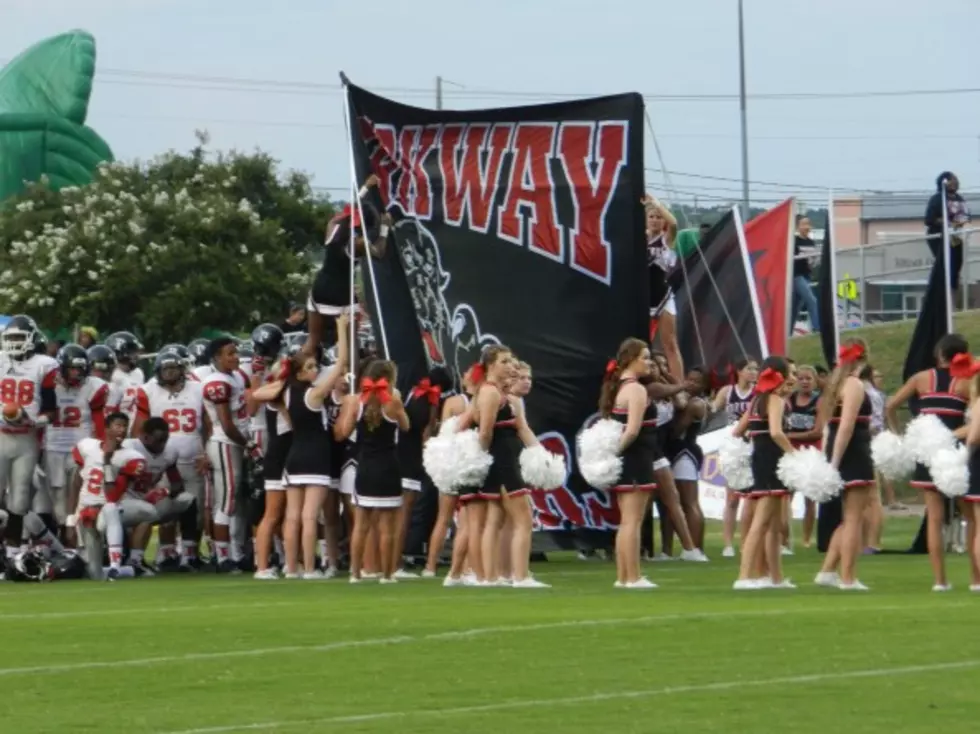 Some Shreveport Area Football Teams Still Alive in State Playoffs
Photo by Julie McCoy
It's Round 3 of the Louisiana High School Athletic Association State Football Playoffs and the Shreveport area continues to be well represented!
We'd first like to congratulate all our teams that have advanced this far, but we'd also like to add our admiration of all the coaches and players who will most certainly miss most of the joys of "taking things easy" during this Thanksgiving break from school, as they continue to practice for this week's games and all that includes.
Here's a look at just who will continue their playoff dreams this week!
Class 5-A
#18 Parkway will host #7 Acadiana at 7:00 Friday night at 4301 Panther Drive in Bossier City
Class 4-A
#4 Northwood will host #5 Westgate at 7:00 Friday night
Class 2-A
#5 North Caddo will host #4 Avoyelles at 7:00 Friday night
Class 1-A
#1 Logansport will travel to #9 Basile at 7:00 Friday night
#6 Haynesville will travel to #3 Grand Lake at 7:00 Friday night
#2 Homer will travel to #10 White Castle at 7:00 Friday night
Division IV
#4 Calvary Baptist will travel to #1 Ouachita Christian at 7:00 Friday night
To see the entire LHSAA 2021 State Football Playoff Bracket just go HERE
Texas High School State Football Playoffs
We also received word from Teresa Gathright that in the Texas High School Football Playoffs, the Waskom Wildcats would travel this Friday night at 7:00 pm to Dragon Stadium in Nacogdoches to take on the Newton Eagles in Round 3.
Congrats to all our teams for making it this far!  And safe travels to all who will be headed out after Thanksgiving!  Good luck in the next round!
What Local Restaurants Will Be Open for Thanksgiving Meals?
Price Comparisons for Your Thanksgiving Dinner Items for 2021
You can expect to pay higher prices this year for everything you need to put on that Thanksgiving spread.
Top Dining Destinations in Shreveport Bossier to Take Visitors
Shreveport has many great restaurants. We picked out some of our favorites for you to take the family and friends if they are visiting from out of town..