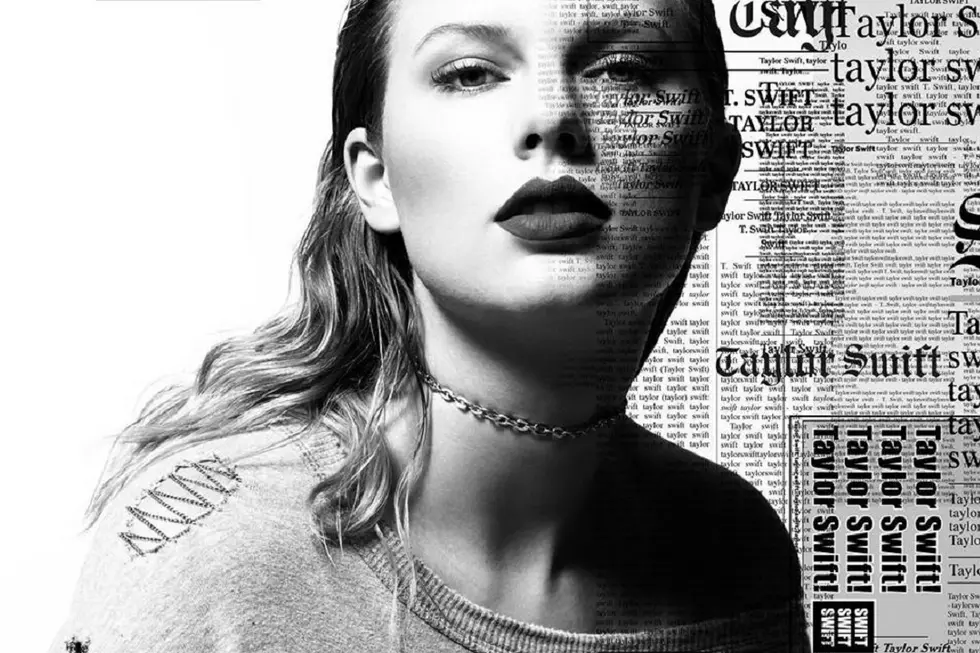 Taylor Swift's 'Reputation': Everything We Know About the New Album
Big Machine Records
It's T-minus three days until the release of Taylor Swift's highly anticipated sixth studio album, Reputation.
Between all the tabloid drama and high-profile music video releases (zombies and androids, oh my!), it's easy to get caught up in the tailwind of publicity and lose track of all the important little details, like how to pre-order the album, who's involved and how many songs will be on the record.
Below, we break down everything we know about Taylor Swift's Reputation (so far!) ahead of its release this week.
It's out November 10
Reputation will hit shelves on Friday, November 10, though a pre-sale is already active on Taylor's web site and through vendors like Target, Walmart and Amazon. Pre-orders for the album, released on Big Machine, have already doubled those of her last album, 1989, with more than 400,000 units already purchased, Billboard reports.
The cover art was shot by Mert and Marcus
The album cover, which features a grey sweater-wearing Taylor positioned in front of newspaper clippings bearing her name a reported 899 times, was lensed by high fashion photography duo Mert and Marcus. (Incidentally and perhaps coincidentally, the photographers are longtime pals and collaborators of Taylor's snake emoji-wielding nemesis, Kim Kardashian.)
There will be 15 songs on the album
Taylor confirmed that Reputation will contain 15 tracks total (on the standard edition, anyway), four of which have already been released: "Look What You Made Me Do," "Gorgeous," "...Ready For It?" and "Call It What You Want."
It may or may not be available to stream
It's still unclear whether or not the pop star, who infamously slammed music streaming in a letter back in 2014, will allow Reputation to stream on services like Apple Music and Spotify. According to the New York Times, a handful of executives representing major streaming apps are still not confident that Reputation will be made available to stream, just days before the album's release.
Two exclusive Reputation magazines will be available
Target stores in the U.S. will release two special 72-page magazine books featuring exclusive Reputation content, including the album, photos, poetry, paintings by Taylor and handwritten lyrics. Each magazine will feature a different cover.
UPS is the "Official Delivery Partner" for her album
In select cities, UPS will feature specially designed Reputation decals on its vehicles. The company has encouraged fans to take a selfie with the trucks and share on social media with hashtag #TaylorSwiftDelivery, and UPS is also offering fans a chance to win a number of prize packs.
She's in trouble with the ACLU for threatening a blogger
In early November, Taylor drew ire from the ACLU after her lawyers reportedly threatened legal action against a California blogger who, on October 24, accused the singer of covertly supporting white supremacy in her lyrics. Speaking to Entertainment Weekly, ACLU of Northern California attorney Michael Risher called Taylor's legal team's report an "unsupported attempt to suppress constitutionally protected speech."
1989 collaborator Jack Antonoff is back in the mix
The Bleachers singer-songwriter, who worked extensively on the country-pop crossover star's 2014 album, is involved in the making of Taylor's new Reputation, with his fingerprints all over two already-released tracks: "Look What You Made Me Do" and "Call It What You Want."
She already held a number of listening parties for the album
In October, Taylor hosted four super secret fan-exclusive Reputation listening parties located at her homes in London, Rhode Island, Los Angeles and Nashville, where she treated roughly 100 lucky Swifties to special merchandise, an advance album stream and a meet and greet.
Fans who pre-order the album and purchase merchandise may get priority access to tour tickets
Having partnered with Ticketmaster, Taylor Swift is controversially offering fans who pre-order or purchase the album on iTunes access to a special pre-sale code for her upcoming tour.
A Reputation pop-up store event will take place in New York City
Between November 12 and November 16, a Reputation pop-up shop featuring exclusive album merchandise and apparel will take place in New York City.
AT&T will air a special behind-the-scenes series on their web site
AT&T has produced a multi-part behind-the-scenes series following the making of Reputation. Titled "The Making of a Song," the series will air exclusively on the company's web site starting November 13.
She's launching an app by the end of the year
For Swifties who can't possibly get enough of Taylor, the pop star will reportedly launch an app called The Swift Life by the end of 2017.
Taylor Swift's Best Live Vocals:
Look Back at Taylor Swift's Squad: