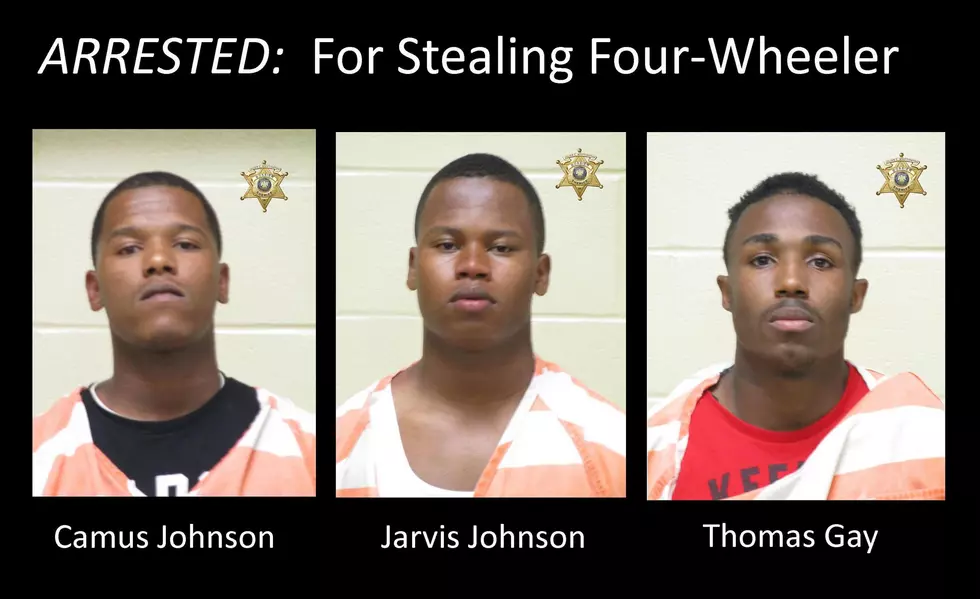 Three Arrested for Theft of ATV
Bossier Parish Sheriff's Office
The Bossier Sheriff's Office has arrested three men from Plain Dealing for stealing a 4-wheeler and then trying to make a quick sale of the stolen off-road vehicle.
19-year old Thomas M. Gay, 21-year-old Camus M. Johnson, and 18-year-old Jarvis D. Johnson were arrested and booked into the Bossier Maximum Security Facility in Plain Dealing Friday afternoon on a variety of charges including felony theft and illegal possession of stolen things.
A press release from the Bossier Parish Sheriff's Office tells us how investigators were led to the three suspects:
Bossier detectives have been working the cases of three separate 4-wheelers that were reported stolen in late March from two residences on Highway 157 just north of Highway 2. While Bossier detectives were investigating the matter, patrol deputies were also keeping a watchful eye on the neighborhoods in the area for any of the stolen vehicles.

The diligence paid off, and patrol deputies found one of the 4-wheelers, a Yamaha Kodiak 400 worth about $2,000, on Friday, in a wooded area on the next street over from where the Johnson brothers lived. Upon questioning, Gay admitted to detectives he stole that 4-wheeler, while the Johnson brothers admitted to detectives they knew the 4-wheeler they were trying to sell was hot.
Patrol deputies also recovered a second stolen 4-wheeler on Saturday in the Benton area, and detectives are continuing their investigation into that matter. A third 4-wheeler is still missing.
If anyone has any information about missing or stolen 4-wheelers, please contact Bossier Crime Stoppers at (318) 424-4100 or the Bossier Sheriff's Office at (318) 965-2203.