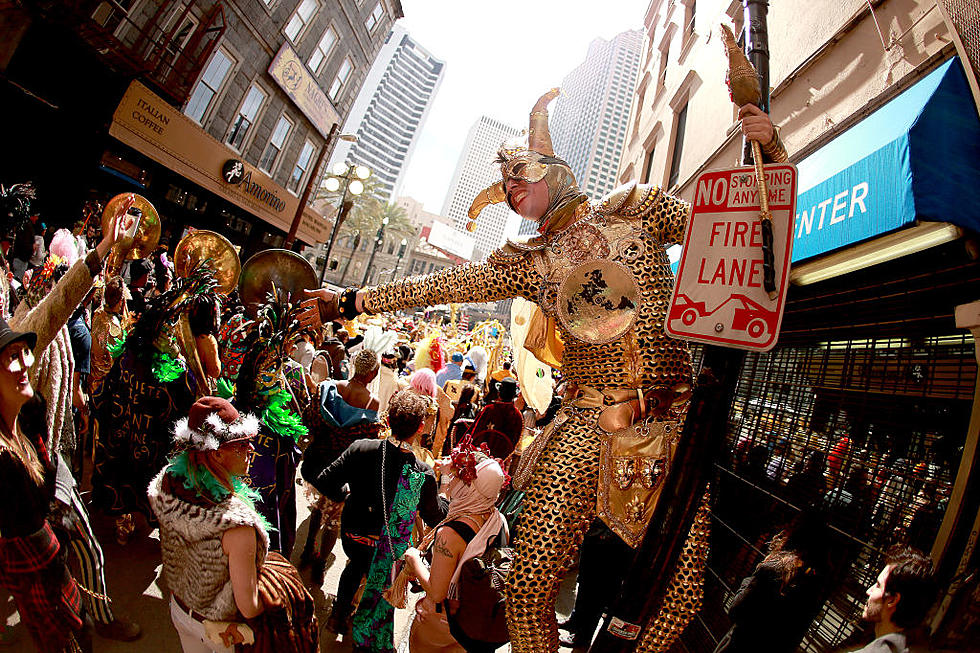 Enjoy Mardi Gras in New Orleans From Your Couch in Shreveport, LA
Photo by Sean Gardner/Getty Images
This weekend is one huge Mardi Gras celebration all across the state of Louisiana. Want to see the parades in New Orleans but don't want to make the drive? We've got you covered! This is your chance to watch all of the biggest Mardi Gras parades New Orleans has to offer via live stream!
So, if you'd like to enjoy your hurricane while relaxing on your couch from the comfort of your own home, you can! I don't know about you, but I don't know if I could handle a Bourbon Street crowd during Mardi Gras anymore. Just thinking about the soupy swamp coating the ground in the French Quarter makes me cringe. Don't get me wrong, I love Mardi Gras, I just like it a little cleaner these days;)
Here's the schedule of parades in New Orleans through Fat Tuesday. Click here for the NOLA.com parade cam so you don't miss a minute of the action!
Friday, February 17, 2023
French Quarter
Krewe of Bosom Buddies 11:30 am
Uptown New Orleans
Krewe of Hermes 5:30 pm
Krewe d'Etat 6:30 pm
Krewe of Morpheus 7:00 pm
Slidell
Krewe of Selene 6:30 pm
Saturday, February 18, 2023
Uptown New Orleans
Krewe of Iris 11:00 am
Krewe of Tucks 12:00 pm
Westbank
Krewe of NOMTOC 10:45 am
Mid-City
Krewe of Endymion 4:00 pm
Bush
Krewe of Bush 9:00 am
Kenner
Krewe of Isis 6:00 pm
Sunday, February 19, 2023
Metairie
Krewe of Athena 5:00 pm
Krewe of Atlas
Uptown New Orleans
Krewe of Okeanos 11:00 am
Krewe of Mid-City
Krewe of Thoth 12:00 pm
Krewe of Bacchus 5:15 pm
Monday, February 20, 2023, Lundi Gras
Metairie
Krewe of Centurions 6:30 pm
Uptown New Orleans
Krewe of Proteus 5:15 pm
Krewe of Orpheus 6:00 pm
Tuesday, February 21, 2023, Mardi Gras (Fat Tuesday)
Metairie
Krewe of Elks Jefferson
Krewe of Jefferson
Krewe of Argus 12:00 pm
Uptown New Orleans
Krewe of Zulu 8:00 am
Krewe of Rex 10:30 am
Krewe of Elks Orleans
Krewe of Crescent City
Covington
Carnival in Covington 10:00 am
Folsom
Krewe of Folsom 2:00 pm
6 Things Shreveport Could Fix But Never Will
The city of Shreveport has a lot of problems. Some that cannot be easily fixed, others that could get corrected with a little effort.
Top Dining Destinations in Shreveport Bossier to Take Visitors
Shreveport has many great restaurants. We picked out some of our favorites for you to take the family and friends if they are visiting from out of town..
Best Happy Hours in Shreveport-Bossier