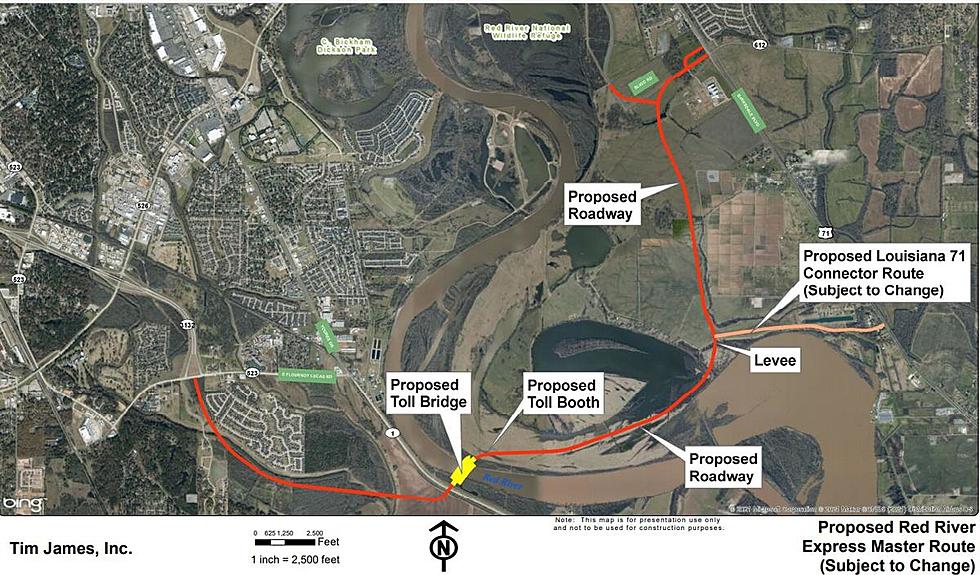 Here's the Proposed Route for Innerloop Extension in Shreveport
photo provided by developer
The Alabama company proposing to build the extension of 3132 to the Caddo Bossier Port and then a new bridge over the Red River has released the proposed route.
Tim James, Inc is working on a deal to build a privately funded roadway between Flournoy Lucas Road in Caddo Parish and Highway 71 in south Bossier City.
The map submitted by the developer shows the roadway extends across private lands for the bulk of the route. But a small piece of land near 3132 at Flournoy Lucas will have to be purchased from the City of Shreveport.
The company is proposing a toll bridge across the Red River with a price tag of about $2.00 each way for cars. Larger vehicles would pay more. But the majority of this new roadway would be free and accessible to all motorists. It would cut travel times for many motorists that community from south Bossier into Shreveport each day. It would also ease the travel to and from the Caddo Port.
The price tag for this entire project from the private company is between $60 and $80 million dollars. The Tim James Company would own and maintain the roadway and the bridge across the river.
Click here to hear more about this proposal.
The Tim James group will now work with both parishes to work out agreements to move this project forward. This same group built an operates the Foley Beach Express near Gulf Shores, Alabama.
What States Do Truckers Say Have the Worst Drivers?
Most Expensive Home in Louisiana