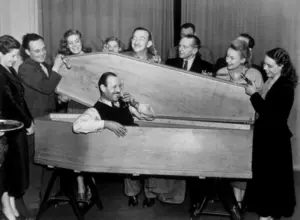 The Story of a Post-Mortem Relationship Problem
Getty Images
Take this story as a lesson. That lesson being, tie up your loose-ends before you die...
A 55 year old man in Egg Township, New Jersey passed away last Tuesday and left behind a wife AND girlfriend.
Leroy Black was apparently a bit of a player. So much so, that his long-time wife and girlfriend even KNEW about each other. Heck, they even helped each other coordinate his funeral arrangements...
But one thing they didn't collaborate on was the obituary. It seems there was some miscommunication because BOTH women wrote an obit to the paper using the same picture and they ran on the same day.
BUT, it seems that the hatchet was buried along with Leroy. The funeral seems to have went off without a hitch, and no fights or squabbles were reported.