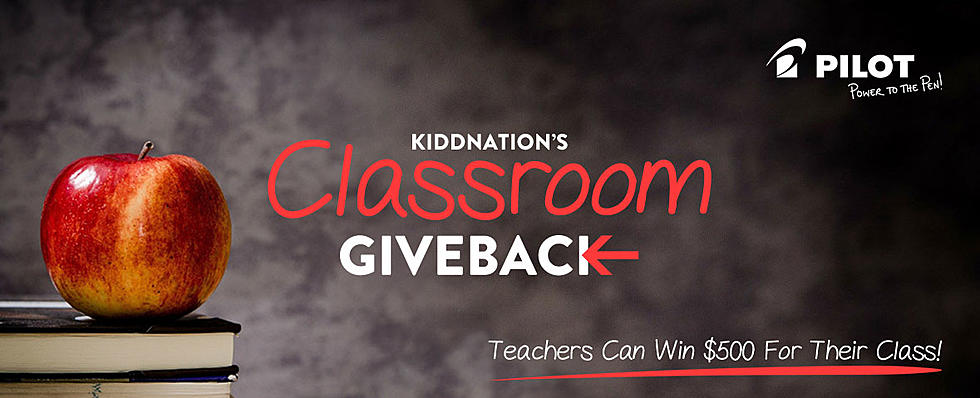 Know an Amazing Teacher? They Could Score $500 with KiddNation's Classroom Giveback
KiddNation.com
Do you know a teacher that goes that extra mile for their students? If so, KVKI's Kidd Kraddick Morning Show wants to honor them with $500 with the KiddNation Classroom Giveback!
Are you a teacher? Do you want to supply your classroom with the very best tools for learning whether in person or virtual? Is there a project that you need to purchase special materials for? KVKI's Kidd Kraddick Morning Show is here to help!
Now through September 22nd, 2021, and maybe even a little longer, several times a week, the Kidd Kraddick Morning Show is working to help our teachers with their wish lists for their classrooms. Select teachers will receive $500 to spend on a special project for their class! Just make sure to get your submission in by September 18, 2021, for consideration.
Teachers, we know you work hard to keep kids learning – so we've teamed up with Pilot Pen to make sure you have everything they need to make the most of this school year!
Deserving teachers will be chosen to receive a $500 Visa cash gift card and a G2 Overachievers prize pack, including Pilot's #1 selling G2 gel ink pens; or a Science FriXion STEM prize pack, including the first-and-only STEM pen, Pilot's erasable FriXion!
Show Pilot how you bring power to your pen on Instagram @PilotPenUSA, Facebook.com/PilotPen, and Twitter @PilotPenUSA.
This Property for Sale in Minden is Hunter, Fisher, and Horse Lovers Dream!
Places We Need Most in Shreveport/Bossier City
Treehouse Cabin on Cross Lake
Photos from the 'Treehouse' cabin on Cross Lake in NWLA available for rent via Airbnb.
Top 7 Authentic Tacos in Shreveport-Bossier