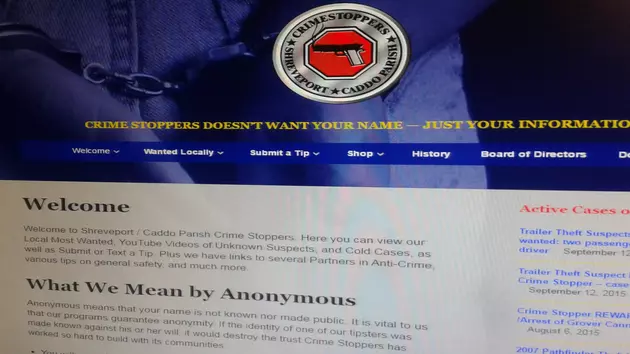 Shreveport-Caddo Crime Stoppers Turns 35
Photo: Angela Thomas
This month marks the 35th 'birthday' of our Caddo Parish Crime Stoppers Program.
Shreveport's first Crime Stoppers pilot program was formed in 1981 thanks to pioneers like the late former Shreveport Fire Chief Dallas Greene, former Shreveport Mayor John Hussey's wife, the late Mimi Hussey, and retired KEEL News Director John Lee. The program was expanded to the entire Caddo Parish area in 2008.
Caddo Parish Crime Stoppers collects crime tips and hands them over to investigators with the Caddo Sheriff's Office, Shreveport Police Department and other agencies. The program operates on a triad relationship among law enforcement, the media and the public, and any Crime Stoppers program in the nation can share information with another. That's helped with the capture of fugitives in Texas, California and Colorado who might have gone undiscovered.
"Support and participation of each of these entities makes not only our program successful, but each Crime Stoppers program internationally successful," said Vice President of the local program and member of the Crime Stoppers USA Board of Directors, Jim Taliaferro. "Although Crime Stoppers often gets the credit for solving crime, we know that simply is not true.
Crime Stoppers doesn't solve crime, tenacious investigators do. But all too often, it's those tips received by a Crime Stoppers program which provides a piece of information assisting an investigator to develop one more clue to bringing another case to closure and suspect to arrest."
According to a news release from Taliaferro, in the past 35 years, Caddo Crime Stoppers has grown not only in the geographic area of responsibility, but in technology, as well. It now uses state-of-the-art software to manage and document incoming tips and categorize statistical data, which in the past was done manually.
Caddo Parish Crime Stoppers took over 650 calls in 2015. Those led to 16 arrests, 23 cases cleared, over $15,000 in rewards paid, and seizure of $1,000 worth of property and narcotics.
As of February, Crime Stoppers USA made 678,439 arrests that led to 8,640 homicides solved, over 1-million cases cleared, $104-million in rewards paid, nearly $1.2-billion in property recovered, and over $3-billion in drugs recovered.
"Shreveport/Caddo Parish Crime Stoppers is honored to have played such an important part in assisting our investigators with identifying, locating and apprehending fugitives from justice," Taliaferro said. "We look forward to many more years of success and remain resolute to offering our resources to assist area law enforcement in restoring, protecting and maintaining the quality of life for our citizens."
If you ever have information to share in a crime case, you can call 318-673-7373.